You may be wondering why certain vehicles haven't made my list.  The chances are that I might have already had one!  Here's the list of what I have had to this day:
It all started with this 1988 Volkswagen Fox that I bought for $200 with money I had earned from working on my paper route. It barely started, burned oil, and the rear doors did not work. The story behind the VW Fox was that it was made to compete with the Yugo GV; at the time the most inexpensive car in America. For a few hundred dollars more, you could treat yourself to a German (built in Brazil) sedan, coupe, or quirky 2 door wagon. I sold it before I had my license. I have long lost any photos of it. This is pretty much what it looked like:
When I passed my road test and received my license to drive, my grandfather found me a real gem of a vehicle. Lee Iacocca had said that it has an interior that would fit "six Americans." Grandpa's sister (my great aunt) had given up her 1987 Plymouth Reliant. Bench seats front and rear, and the standard clattery 2.2 liter 4 cylinder that got grandmas everywhere to the grocery store, and Chrysler through the eighties. Again, I don't have any photos of it, but here is a silver K-car: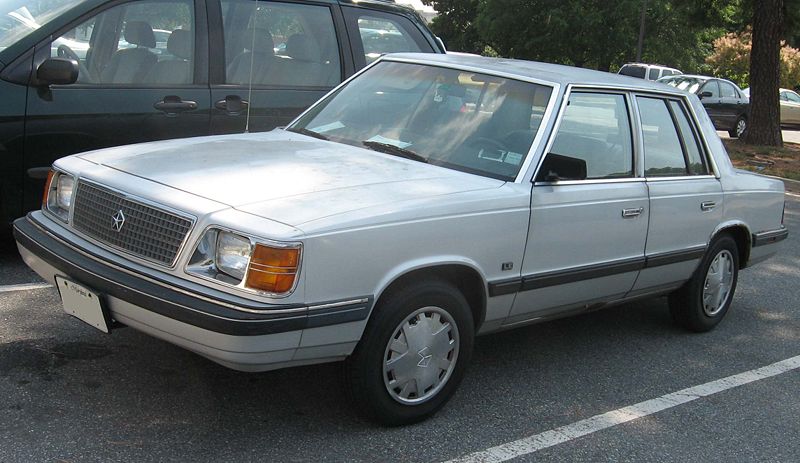 Finally, a car worth talking about! My 1985 Volkswagen Golf GTI. I had this throughout my senior year of high school. It had been recently repainted with a fresh coat of Mars Red, which lead me to believe that it was a solid car. It drove really well. However, after my first winter with it, the shock tower developed a crack started by rust, and holes were starting to form on the floorboards. When the transmission stopped functioning after shifting from second to third one day, when commuting to college classes with my good friend Andy P., I decided that there was no reason for fixing the old rot box. Too bad it still looked really good!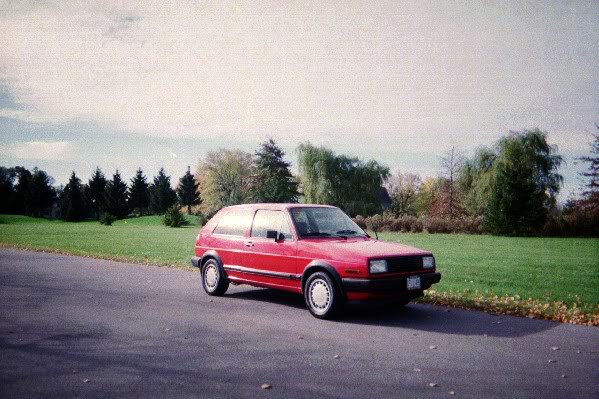 I replaced the 85, with a 1983 Volkswagen Rabbit GTI. This car was indeed clean. It was originally from West Virginia, and had a lot of minor performance enhancements performed by John B., a local VW tech. It had a larger throttle body from an Audi, the "dual-down" exhaust manifold, weighted short shift kit and front and rear strut bars. It was fun, but I could never get it to run right. It hated starting in the cold, and rattled like no other car I have owned. It wore on me pretty fast. I sold it to my buddy Dotts, who worked a few bugs out of it, but also became frustrated with it and sold it pretty quickly. It did sound fantastic though!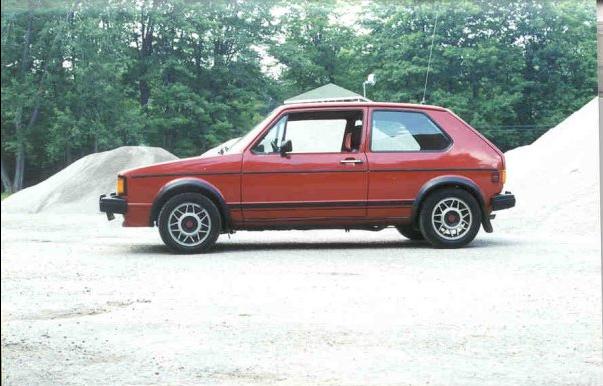 By this time I had been working at a local dealership for a bit, and it was time for me to start buying old trade-ins that were not worthy of the used car lot. I picked up a 1986 Volkswagen Jetta. It was a five speed, and was from Pennsylvania. It was a little bit ugly, but it only needed little bits and pieces to bring it back to life. Luckily, my old broken down 85 GTI was still sitting in my parents driveway. I swapped over the center console, front bumper, front seats, steering wheel and wheels. I had this car for over 2 years! During the time, I fitted "quad-round" GTI headlights and grille, Autotech cat-back exhaust, Neuspeed sport springs and Boge gas struts, Despite being gold with a brown interior, the car looked and handled great.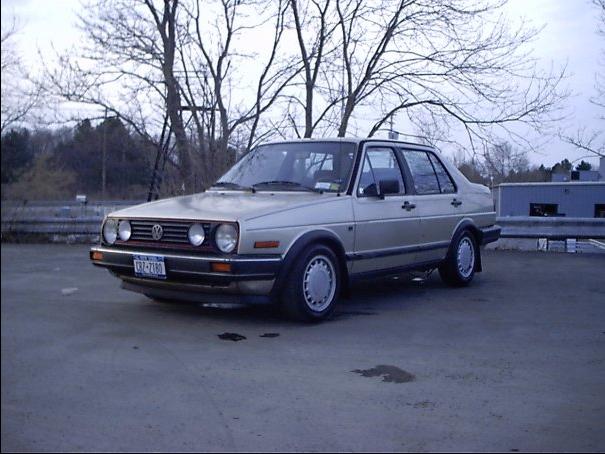 One of the winters that I had the 86 Jetta, I decided to store it and get a winter car. This 1993 Subaru Legacy came along just at the right time. It was awd, and it was $500. How could I go wrong? Well, the odometer had been replaced at some point in its life, so the true miles were unknown. As with most Subarus, the mileage was really more of an arbitrary thing. They run forever, and this car was a testament to that. After I spent the winter pretending to be a rally driver, power-sliding everywhere I could when fresh snow was on the ground, I sold it to my sister for the amount of money that I had spent on it. She was in so many accidents in that car, none her fault (at least that is what she claims) that other peoples insurance paid for that car a few times over. It finally started leaking gas pretty bad, and needed a lot of exhaust work and if I recall correctly, a water pump. It ran well for years. It really owed us nothing at the end. It was a pretty profitable old Legacy.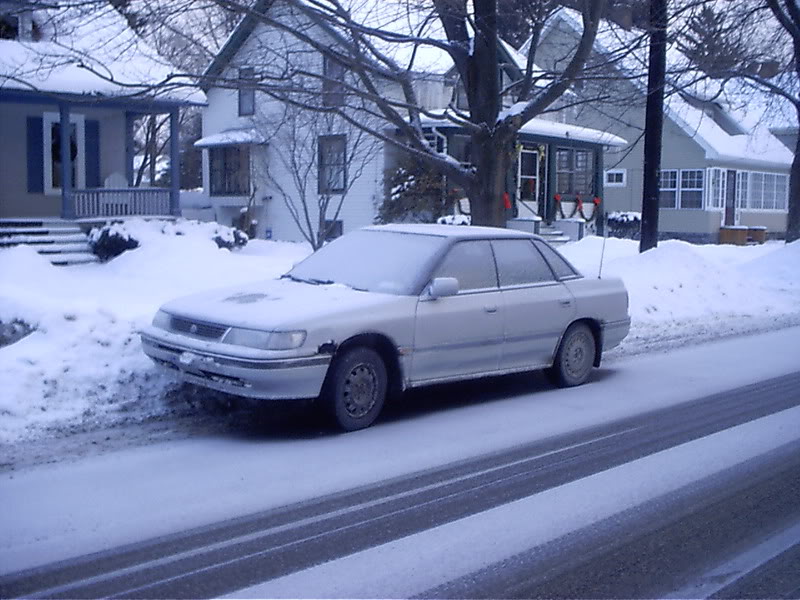 Next, I replaced the 86 Jetta with a 94 Jetta GL. It came in on trade at the dealership that I worked at on a flat bed. Apparently it would not start, even with a jump. It only had 58,000 miles, which was relatively low for the old bulletproof "ABA" 2.0. My boss told me that I could have it for the very low at the time price of $1500 that they had given the previous owner if I could get it running. So I headed out to the car armed with a jump box and a very strong will. This was 2003, and the third generation Jetta (MKIII) was only one generation old. So I hooked up the jump box, turned the key, and I was only greeted by dashboard lights, and the annoying "DOO DOO DOO" key in the ignition chime. The starter would not activate. My first thought was it had to be an issue with the factory alarm system. So I pulled the key out of the ignition, and used the key in the door lock to unlock it and hopefully disarm the factory alarm. Sure enough, it fired right up, and purred like a kitten. That was the beginning of my MKIII Jetta. Over time, I did a lot of minor upgrades. I added a Borla exhaust system, foglights and smoked taillights from a Jetta GT. I had tried many different wheels. My favorites where a set of BBS RA wheels from a MK2 Jetta GLI. I also added a badgeless grille at one point also. It was a great looking car. Although it was newer and had fewer miles than my 86 MKII, it was only better on paper. The 94 was built in Mexico, where as the 86 was built in Germany. Also, VW really decreased the quality of the interiors when they updated the model. The plastics became harder cheaper and more prevalent in the MKIII. There were more creaks and squeaks. It was kind of an upgrade for me, however it had me longing for my MKII.
Winter arrived, and I really needed a new set of winter tires for the MKIII. Working at the dealership afforded me opportunities that most do not get. Rather than buying a new set of tires that will wear, and be worthless in a few seasons, I was able to scoop up this 1996 Ford Explorer Sport. Although not very interesting on the surface, This truck had a fairly rare manual transmission. Truth be told, the clutch was heavy, and the shifter was unrefined, it was still much better to drive than an automatic version. Plus, I have always had a thing for 2 door SUVs. The only real issue with the truck was that it had sum ugly surface rust on the bumpers. It did however have an almost new set of Goodyear Wranglers on all four corners, and four-wheel-drive that worked great. A night at my buddy Glen's garage fixed the bumper rust issue, and I had a really good looking truck! I sold this truck in the spring and to this day regret doing so. It was a really solid truck, that I was able to eek almost 25 MPG out of.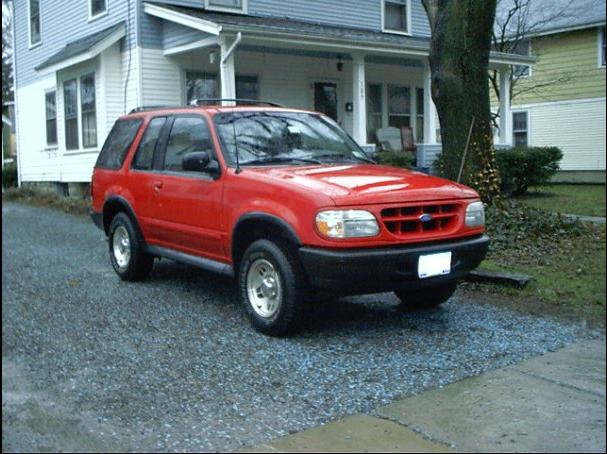 With the funds from the sold Explorer, I bought this 1991 Audi 80 quattro off my buddy Glen. I went through a lot with this car. Out of all of the cars that I owned, this one had been in my life the longest. Glen picked it up from somewhere that uses a lot less road salt than here in Western New York. Under the hood, it had no rust on any of the exposed metal parts. It was a little dusty, but had not leaked any fluids anywhere. Glen picked it up with some accident damage in the left quarter and rear bumper. He used parts from his nearly identical 80 quattro that he was in an accident that resulted in extensive front end damage. After it was fixed up, I purchased it and had a number of adventures in it. The quattro all wheel drive system is nearly impossible to stop in snowy conditions when outfitted with winter tires. I had a number of fender benders with it, causing me to become very good at working on it. Anyone who is familiar with early quattro cars, knows that they were designed and assembled by the most sadistic jigsaw designers this world has ever seen. Typically, replacing one part means removing at least ten other parts just to gain access. And once you have finally gained access to that part, there is one bolt that is nearly impossible to get a wrench on, and you are lucky if you can get an eighth of a turn on the bolt before you have to re-position the wrench. And just in case you are wondering, that last bolt with have an extremely fine thread that will require many turns to back out. Once it is broken, it will require just a little bit more power to remove than what your fingers can produce to spin it out of position. Somewhere in Munich, a group of old engineers are sitting in a pub having a good laugh over their crazy designs right now.
Regardless, this car was in my life for about 7 years. This is way longer any other cars that I have had. We went through a lot. I replaced the stock leaky exhaust with one from a company called Stebro. It sounded awesome, but to forever to deliver. Above all, these cars have character. They are heavy, tough, slow, and very comfortable. Despite the sadistic engineering, the quality of materials and build are fantastic. German cars have not been as well built since the early 90s. Nothing sounds as unique as the old five cylinder engines, nor has Audi made an engine as durable.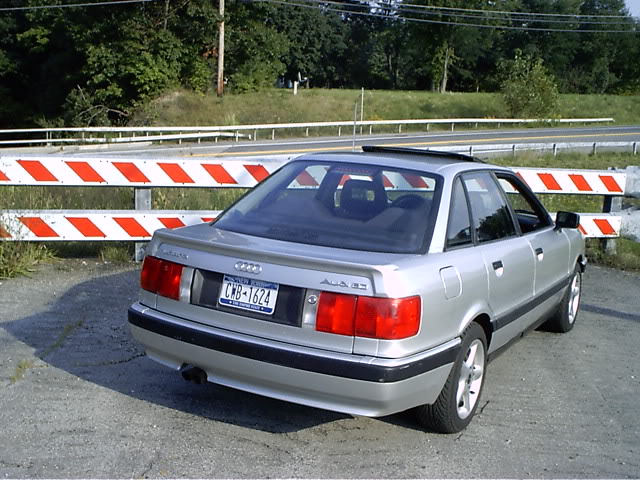 Sadly, I recently traded this car away for an old snowmobile. I didn't have the space for the car anymore, or a real need. My wife and I have a 2007 328XI, so there is no need for another all-wheel-drive German sedan in our lives. I'm sure the Audi will bring lots of pleasure and frustration to the new owners life.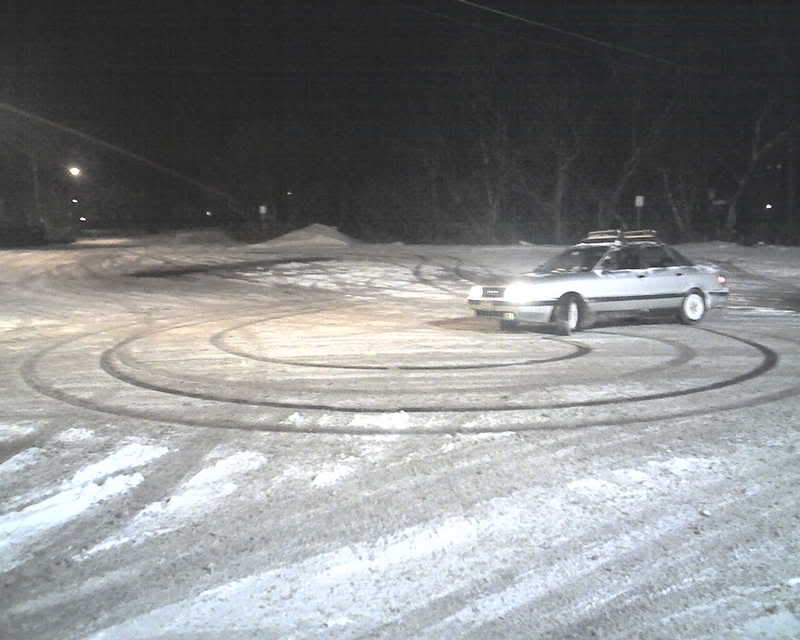 Next I picked up a 1990 Volvo 240 sedan. It was blue, and it had issues. I had it about a month, and sold it to my buddy Sprunch for what I bought it for. These cars were tough and classy. I'd love another one in nice shape with a manual transmission. I don't have any photos of it, but here is a blue Volvo: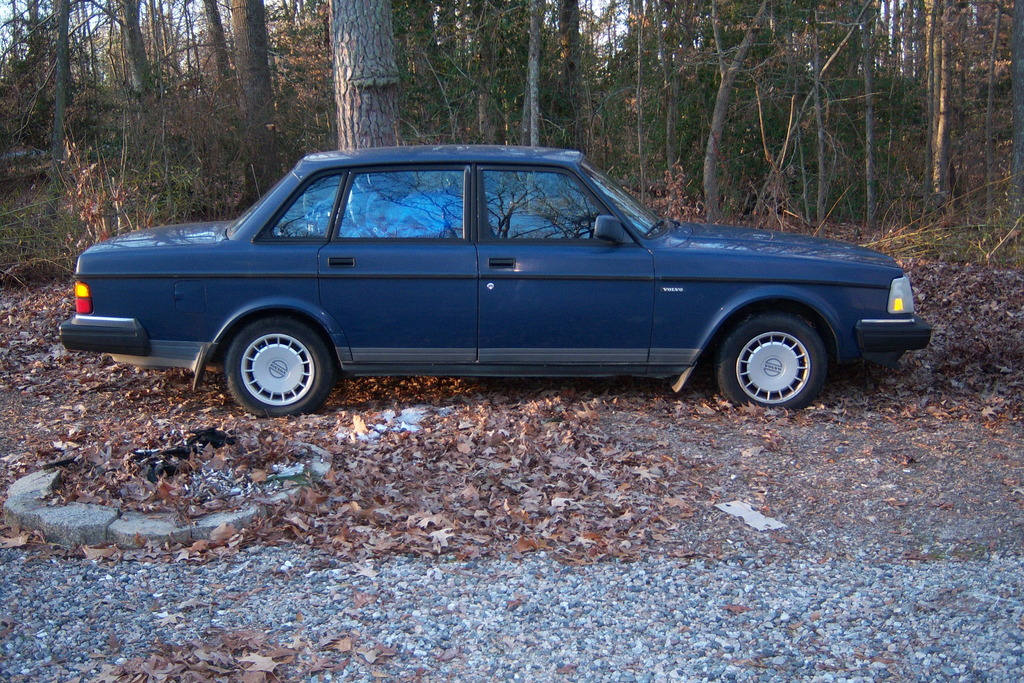 After I sold the Volvo. I picked up another Swede. This time I found a real gem. A 1995 Saab 900 turbo coupe! This car is easily one of my favorites that I have owned. It was powerful, great on fuel, fun to drive, and had some real presence. It had a lot of surface rust for some odd reason. It seemed like a crap shoot with these cars. Some rusted a lot, others stayed really clean. Lucky, my Saab was black, and the rust blended in well with the color of the car. Not much went wrong with the car during the time that I owned it. When I first bought it, at random times it would tun on three cylinders. That was remedied by replacing the ignition cassette, a pretty common issue with these cars. At another point, a pulley on the accessory belt drive seized causing the belt to snap. After replacing the pulley and the belt I was back in business. Aside from being pretty reliable, it also was cavernous in the cargo area. With the rear seat folded, the amount of cargo it could hold was amazing. Like any Swedish car, it also had it's quirks. The ignition switch was located in the center console area just behind the shifter. The reason Saab did this was because Saab developed a locking mechanism that locked the shifter in reverse, rather than locked the steering wheel in position. This was not so quirky in the 60s and 70s, when Saabs shifters were located on the steering column. However, when Saab moved their shifters to the floor, to maintain their shifter lock mechanism, the also moved the ignition also, thus making another weird Saab quirk. My 900 also had an odd button in the center of the dash that said "BLACK PANEL." When depressed, the lights and functions of everything on the dashboard, except the speedometer would all shut off. Saab's reasoning was that it helped when driving at night on dark roads. Less unnecessary light hits the drivers eyes and more from what is on the road in front of the car is focused on. Saab claimed that they borrowed this design from their jet fighter division. If there is an issue that would be displayed by one of the gages (lets say your fuel is low), functionality and light is restored to that gage, informing the driver of the issue. It also would illuminate the turbo gage if you hit full boost 🙂 Also, at one point, I drove this car down to the Susquehannock Pro Road Rally, down in Wellsboro, PA, and mounted a set of Hella FF 1000s and another set of 500s to the front of the car. I liked the extra light so much, that I kept them on the rest of the time I had the car. God I miss this car.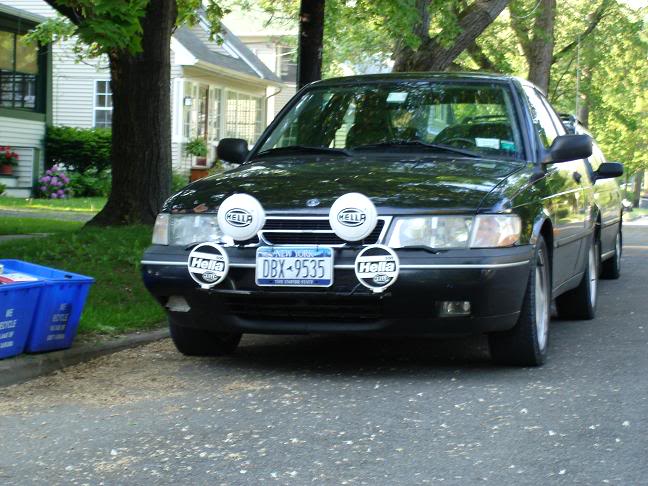 Next I picked up this ratty old 1995 Volkswagen Golf for $300! I had it about a month. My buddy Jesse blew up his Volkswagen Corrado VR6 and needed something to get him to work while the Corrado was getting fixed. So I sold it to him for what I had in it. It served a purpose.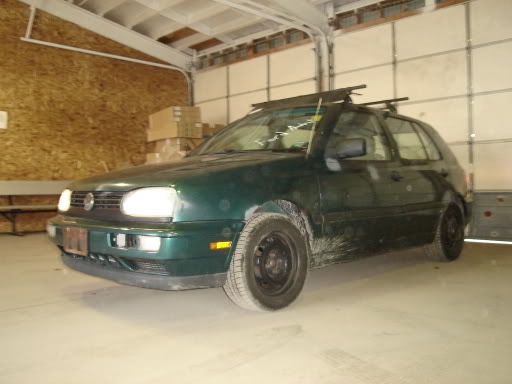 Next I picked up something that I had been trying to obtain for a long time. A 1999 Volkswagen New Beetle TDI (known among my friends as the Biesel.) I didn't really want the New Beetle part, and received a lot of ridicule from my friends for having a "girls car." But I had been longing for anything with VW's fantastic turbo diesel engine. I was such a dork with this car. I kept a log book in the glove box recording mileage, fuel economy and where I purchased the fuel from. I once hit 52.197 miles per gallon on a tank that I drove down to Carlisle, PA for the classic import show. Anyone who has done that trip from Buffalo, knows that is a very hilly ride. That was a pretty impressive feat. 750 mile on one tank of fuel was pretty common when using the venting the expansion tank trick.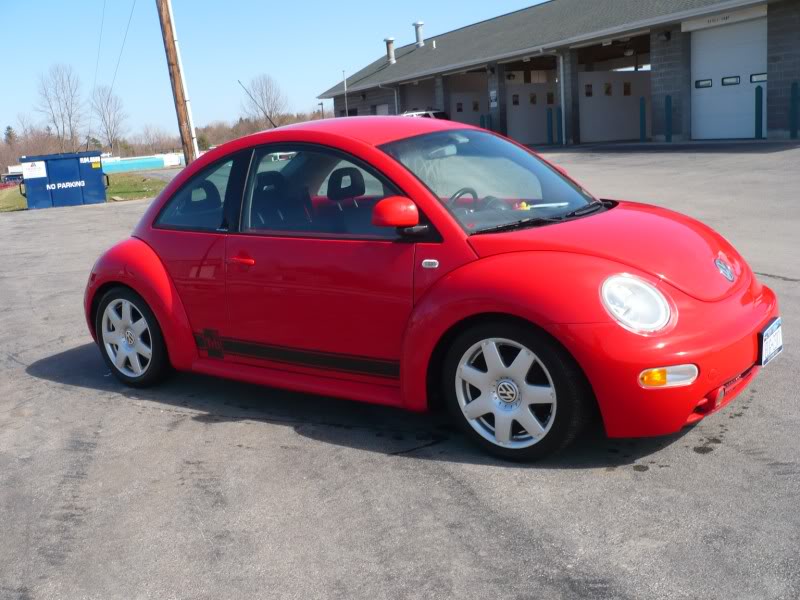 Later I added a few performance enhancements. When my buddy Walker was selling off his TDI, He sold me his ECU, with software that upped the boost and fuel. He also had a set of injectors that injected more finely atomized fuel. The combination made the car pull completely differently, and supposedly added around 50 lb-ft of torque. It also made the exhaust produce smoke like a Peterbilt. This was a lot of fun when encountering tailgates on the highway. Merely mashing the accelerator to the floor would produce a James Bond like smoke screen. I also change out the stock suspension for an H&R cup kit. This brought it down about 2 inches, and made it handle great. I also obtained a set of OEM 17" wheels from a New Beetle turbo and mounted some sticky Sumitomo performance tires to them. In the Winter, I mounted up the stock 16" steel wheels, and attached some retro 70s dog dish hubcaps from an original beetle using some tricks I found on a New Beetle forum. I got more complements on those old hubcaps than any other wheels on any other car I have owned.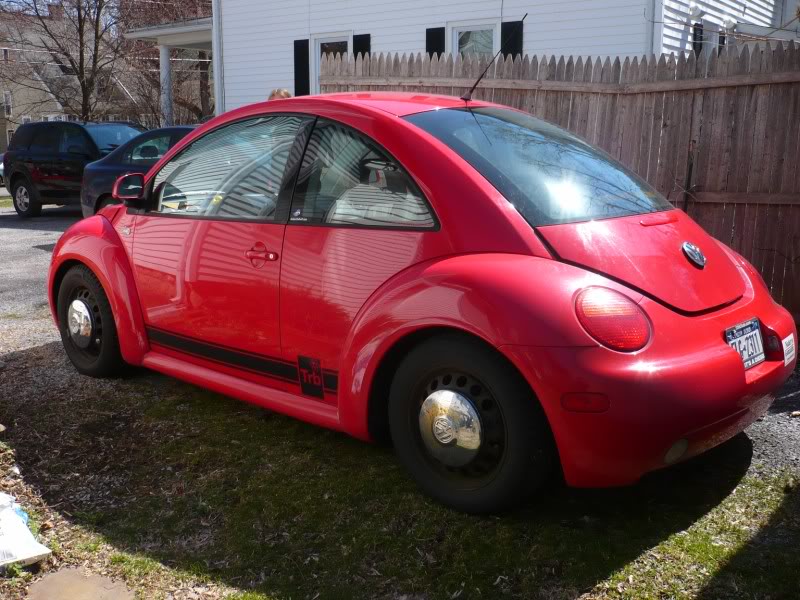 So shortly after getting a new job, I was driving along with my at the time girlfriend (currently my wife) meeting up with her brother, and his girlfriend (also now currently his wife), for dinner in downtown Buffalo. Right on the edge of downtown, and a not so savory area of the city, we hear a loud clunk from the engine bay and I notice the clutch is engaging funny on the old Biesel. I pulled over, opened the hood and noticed the engine was a few inches lower than it normally rests. What had happened, was the bolts for the right engine mount and both broken causing the engine to teeter on the remaining mounts, hence the odd feeling clutch engagement. At this point the Biesel was closing in on  180,000 miles, and I felt with my new job, it was time to upgrade.
Enter my first new car. I leased a 2009 Honda Civic Si.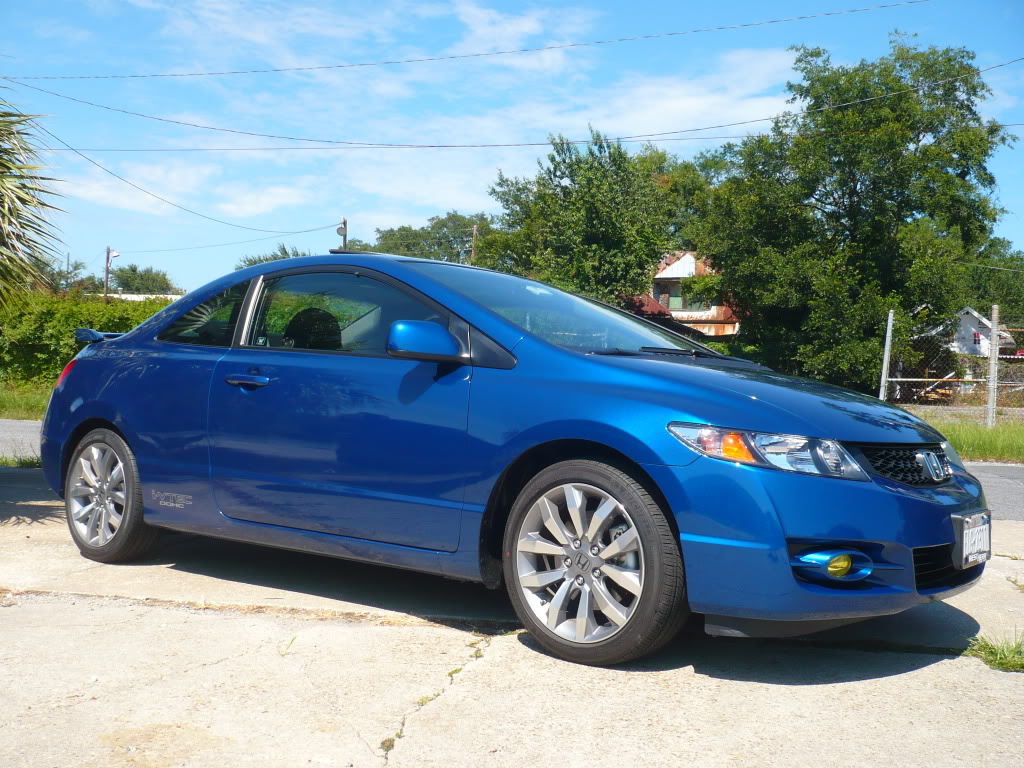 I did something that a younger avid VW enthusiast version of me never would have imagined. I bought a Honda. Granted I didn't actually buy it, I leased it, but still, I made a commitment to a non-European car. I'm really glad I made the jump. It was a great car. Honda makes fantastic clutches, sweet shifters, and their enthusiast trim levels typically have fantastic engines. When this generation of Civic debuted, I actually really liked it. I thought Honda made a big jump from making a really bland no risks taken car to a fairly interesting one. Rather than emulating the popular MK4 Jetta/Golf like they did on the 2000-2005 Civic, they actually completely changed just about every aspect of design on the Civic. The lines were curvy, the interior with its dual level gauges featuring a digital speedometer was very Japanese, and quite frankly, well laid out.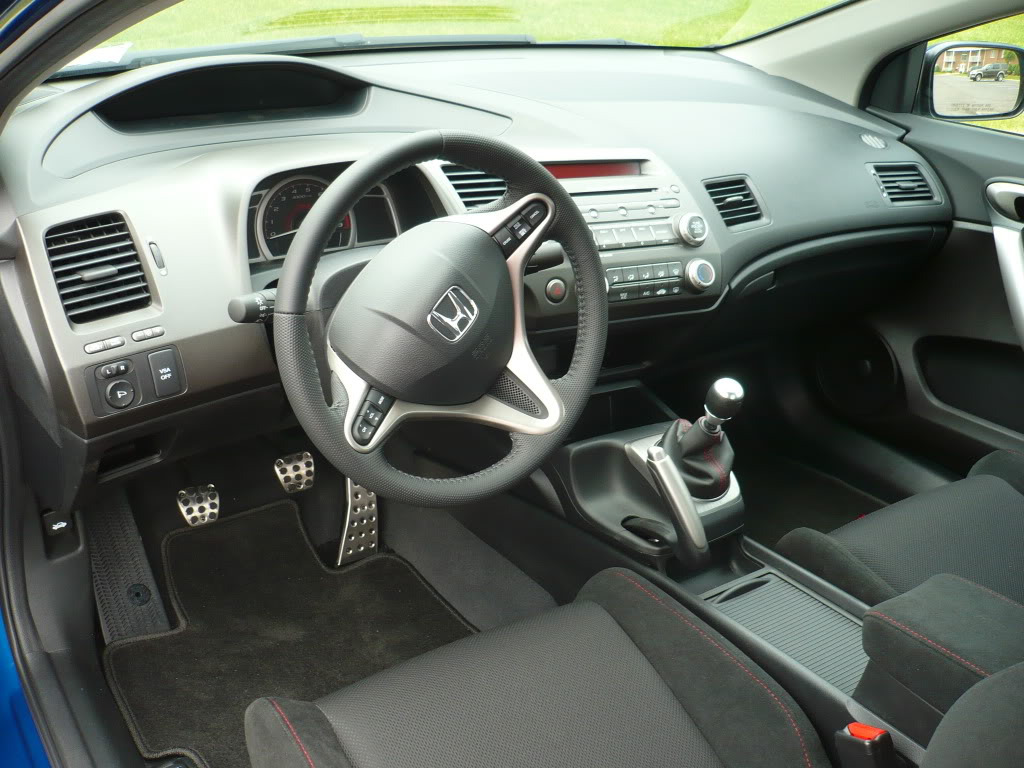 This engine might me one of the sweetest engines Honda has ever put in a car. When the revs sweep past 5700 RPM and the more aggressive portions of the cams are activated by the VTEC system, it screams to 8000 pretty effortlessly. It was a riot. The alcantara upholstery was a really nice touch, and it even had a little subwoofer in the parcel shelf that made a little bass to increase that boy-racer appeal of the Si.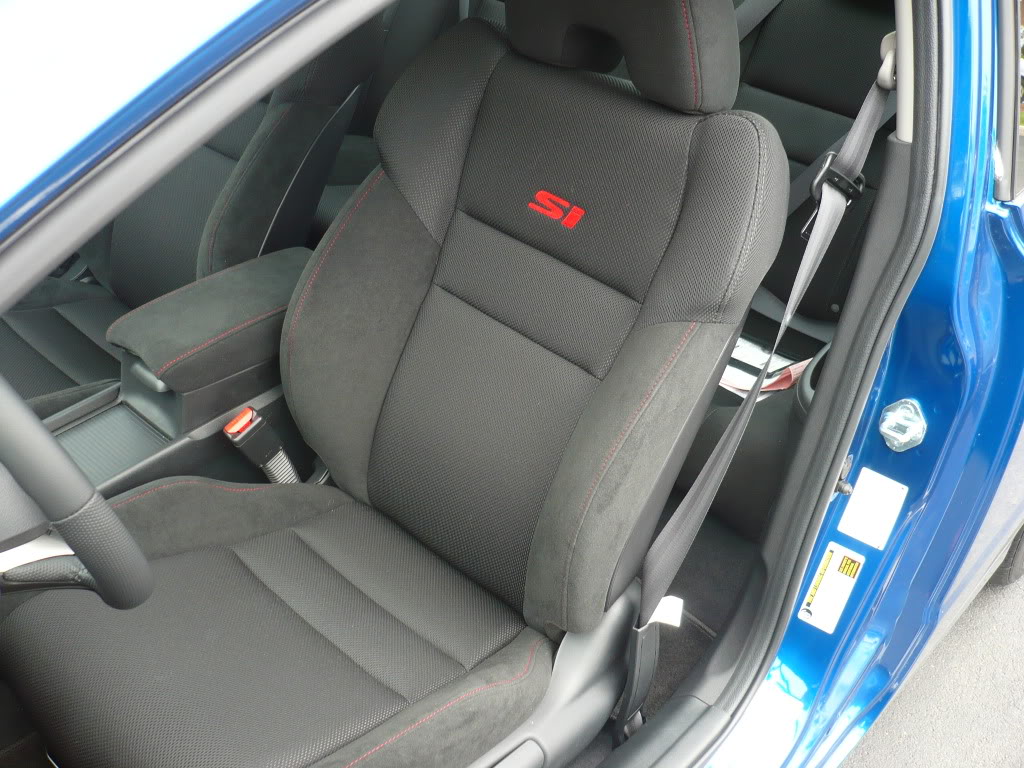 One of the huge drawbacks to this car is the fact that it was never available in a hatchback. Small cars are utterly useless with trunks. There were so many times that I had something to haul in this car and I couldn't fit it in the stupid height restricted trunk opening. I can't figure out for the life of me why people want a trunk on a small car and why Honda is still not offering a Civic hatchback anymore. Ford is selling a ton of Focus hatchbacks, Mazda is selling a lot of 3 hatchbacks, and Subaru is selling a good amount of Impreza hatchbacks. Get with it Honda.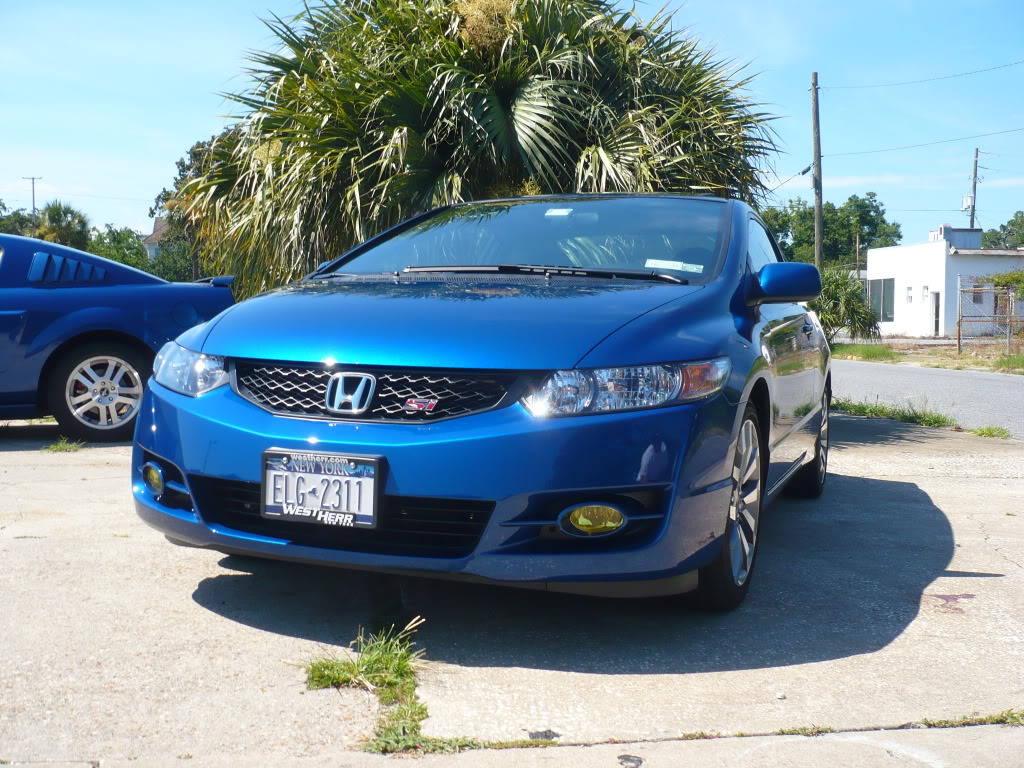 It had been about a year since I had sold my 90 Miata, and Liz, who later became my wife said she missed it. She wanted her own, so we found one on Craigslist in the fall of 2009. It was really low miles, but lived a rough city life with lots of bumps and bruises.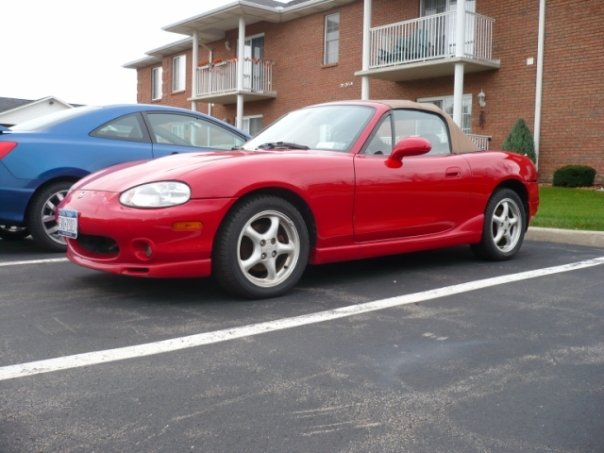 The person we bought it from was a little odd. He bought it brand new in 2000, drove it for a few years, then parked it for a few years under a tree as he swore of driving and rode a bike to and from work. He later resurrected it, replaced a lot of parts because it sat for so long, and decided that he didn't want it anymore. We purchased it for a really low price as it was Fall, and it had some damage on the rear bumper.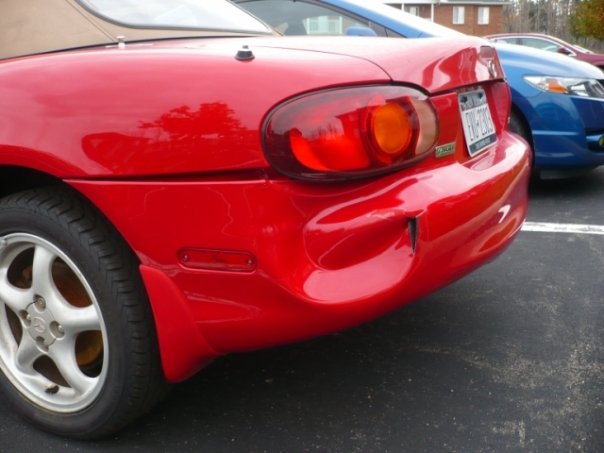 It also had radio stolen and a few spots of surface rust on the body along with some peeling clear coat.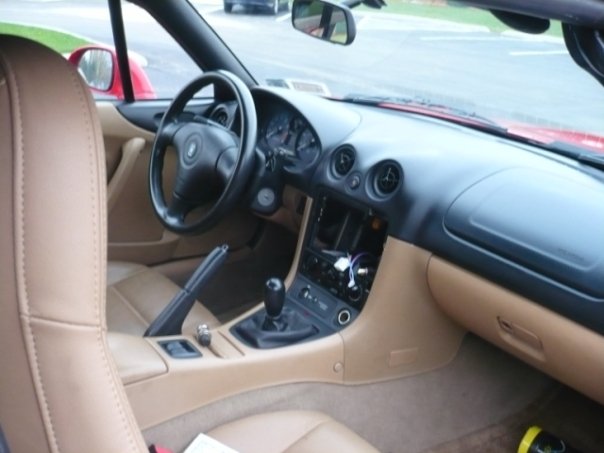 It was, however very well optioned with low miles. It also came with a hardtop!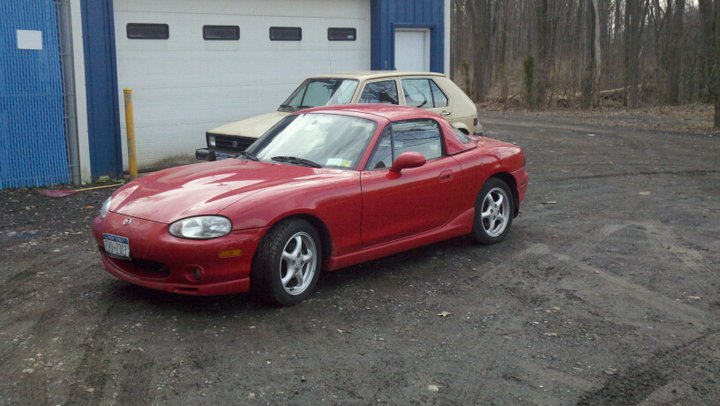 It was very well documented, down to the original window sticker where I discovered it has the optional Torsen limited slip differential (very desirable).
Truth be told, as cool as the hardtop is, it's really a pain in the ass. It's heavy, cumbersome, and takes up a lot of room. Personally, I only like driving this car with the roof open. It's tight, uncomfortable, and noisy with a roof. I did however find a solution for removing and storing the hardtop.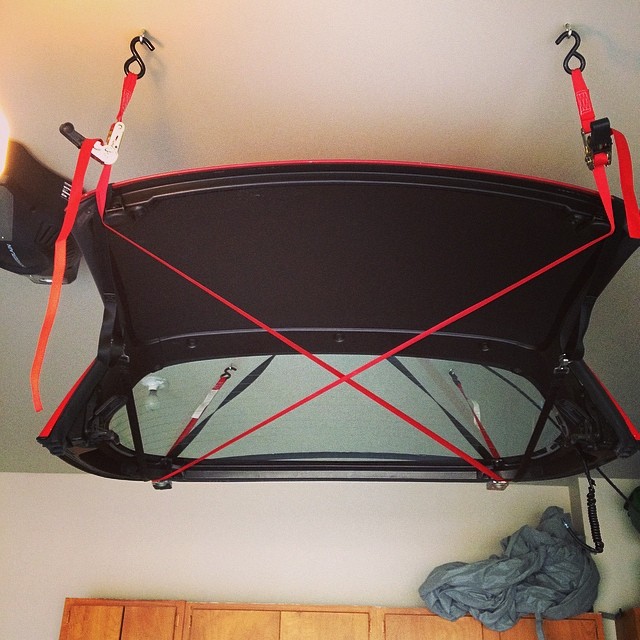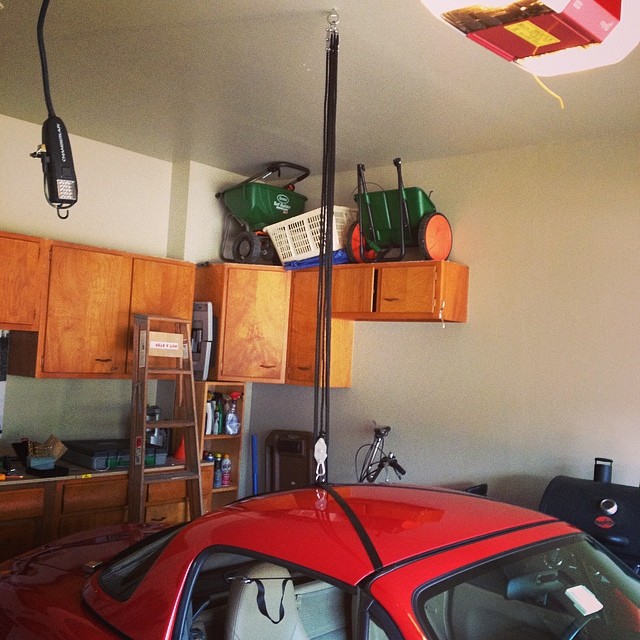 I don't think that hardtop has left the ceiling since I hoisted it up there.
My wife and I still own this car. It's been in our engagement pictures. We have had great times in it. Anytime I doubt Miata ownership, I take it out for a ride. It's damn tough to find a better drivers car. The bigger and slightly better tuned 1.8 liter engine that is in the second generation Miata has a lot more mid-range torque than the early first generation's 1.6 that I had in my first Miata, and its fantastic, especially when paired with the Torsen limited slip differential. Along the way I replaced the rear bumper with another used one, but it had cutouts for a Racing Beat dual exhaust. The guy that was parting out the car I got the bumper from sold the exhaust as part of a deal we worked out.  This was essentially the same exhaust that Mazda used on the Mazdaspeed model of the same generation of Miata, so I knew the quality was pretty good. I'm very glad I bought it. The sound is nice, but not obnoxious.
This past Summer, we considered selling the Miata to my Father-in-law, because he has been looking for a sports car and we considered upgrading to a nicer Miata or exploring other options. After much deliberation, we came to the conclusion that we really liked this car. It still has well under 100,000 miles, is really cheap to run, and despite cosmetic issues, is still a fantastic car. We just couldn't do it. It seems to me that it's going to be with us for a very long time. Anytime I doubt it, all I need to do it take it for a ride.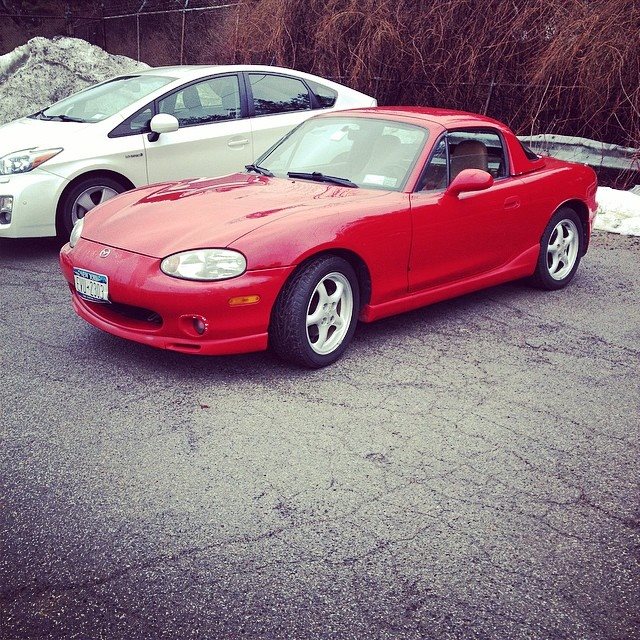 I stole photos for this post from: autobidmaster.com, imageshack.us and upillar.com . If you are the owner of these photos and would like me to take them down, I will gladly do so. jj@doublejslist.com