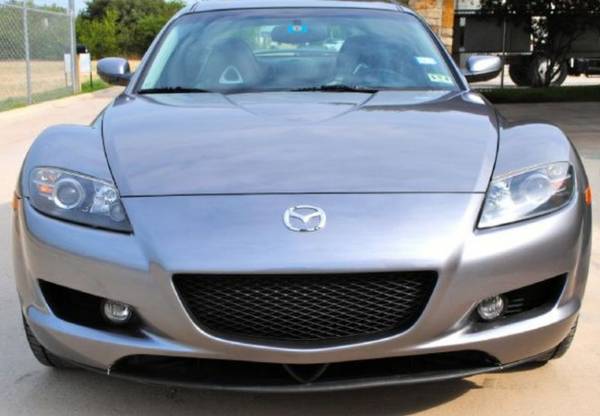 At last! A vehicle that is not a 4×4! I stumbled upon this during a general manual transmission search I like to do on my local Craigslist.
I've always wanted a rotary powered Mazda. It's one of the truly unique engine configurations available in a modern car. I think generally it agreed upon that the 3rd generation RX-7 is probably the most coveted Rotary car out there because of its beautiful simple good looks, the RX-8 and it quirks make it one of the best bargains out there. It has the most modern and likely most efficient and reliable production rotary engine ever made. But saying that is like saying, "the most substance-free Rolling Stone," or "least cheating New England Patriot."
The RX-8s wonderfully smooth engine, and fantastic chassis have their two main faults. The first is a bit subjective, but the styling is a bit busy and over-complicated. going from the amazingly elegant 3rd Generation RX-7 to this kind of 2+2  touring coupe with every styling cue Mazda could come up with. Some people like it, a lot of people don't. I don't mind its quirks as it matches it's weird drivetrain. The second and much bigger issue is the rotary engine. Even though this is a relatively reliable rotary engine, it still has a number of issues that are particularly daunting if you are not prepared for them. This engine is a bit prone to failure. Less than its predecessors, but more than what you are probably used to. They also fail more if you don't take proper precautions. If you start your RX-8 when it is cold, you must take it to operating temperature. If you don't, the engine floods with fuel and damage can occur. Another issue is that these engines are designed to burn oil. It's advised that you should check the oil overtime you gas up. Some also like to add 2-stoke premix oil to the fuel as an extra precaution. Also, despite their free-reving nature, they don't produce a lot of horsepower. They just like to stay high in the RPM range and stay incredibly smooth while doing it. Finally, they are terrible on fuel. Like full-size three quarter ton truck terrible. Just be prepared for that.
Despite all of the bad, I still want one. This one seems like an exceptional deal. It appears to be well taken care of, and nice low miles. Someone go get this car and make me jealous.
http://buffalo.craigslist.org/cto/5347546517.html
2004 Mazda RX8 – $5300 (East Amherst)
Silver 2004 in excellent condition needs a new driver. 73,000 miles. New tires. Sunroof. Custom cover optional for winter storage.