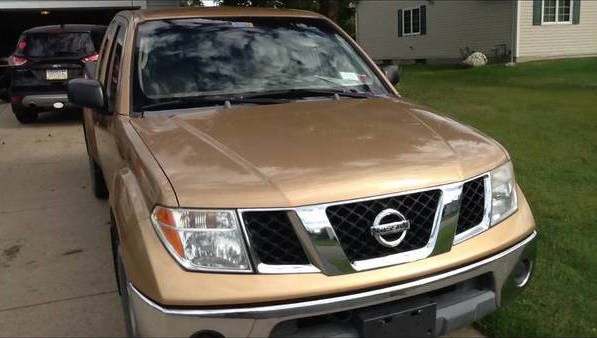 I've noticed that all of my cars that you should buy posts have been tall 4WD vehicles. I think its similar to our appetites as winter approaches. As the temperature outside starts to drop, I tend to crave warm foods high in carbohydrates. I don't know why, but I do. My surfing around the internet seems to take a similar parallel change with the seasons. Suddenly I'm not looking at as many MR2s and M3s, and more old weird trucks.
Anyway, this could be a screaming deal It's listed in three different craigslist ads that I had to visit to compile the photos here. Here's the ad:
http://buffalo.craigslist.org/cto/5343092692.html
 2005nissan frontier – $6500 (eden)
2005 nisssan frontier 93k 4×4 v6,transmission 6 speed overdrive,drives well,maintained well, good rubber,new brakes& rotors fresh inspection,reason for selling 84 yr. old man health reasons.dent on right rear fender,every thing works as it should
Considering a used Toyota Tacoma similar spec and miles would probably fetch more than twice this Frontiers asking price, this seems like a good deal to me. I realize that the Frontier doesn't have the sterling reputation that the Tacoma enjoys, but a Nissan can't be that much worse. Especially one that was owned by an 84 year old man. Brown outside, Brown inside, this baby's ready for a painted-to-match hightop cap to really old man it up!
I did notice that the seller is no Ansel Adams behind the camera, taking some oddly framed shots that cropped out large portions of the vehicle and strangely enough, must have forgotten to take a photo of the mentioned dent on the passenger side of the truck.
This thing is in a nice little farm town not far from my home. I'd love to let it take up space in my driveway. Someone go get it!