This thing has it all!
A southern two door Tahoe? Diesel? Stripped down with rubber floors and crank windows. So weird!!!  I think the sellers assumption is correct that this was some sort of emergency rescue apparatus given the light options, diesel power plant and fire engine red paint. Granted, I am not a big fan of the pre-Duramax GM diesels, but I'll make an exception for this because of its obscurity. This truck is beyond bad-ass with its winch bumper and oversized tires. I also like how the seller is open to trades. It can make for an interesting transaction.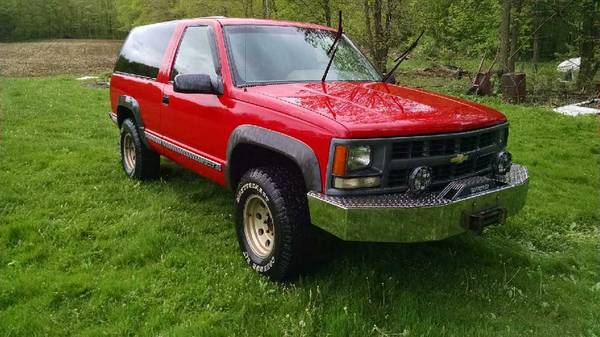 Craiglist link: http://meadville.craigslist.org/cto/5253215333.html
Ad content:
I have for sale or trade my 1996 Chevy Tahoe 4×4 6.5 diesel. Would like to trade for an S-10 ZR-2 and other smaller vehicle for driving back and forth to work.
The truck is in great shape and free of rust, I have had it oil undercoated twice and never drove it in the winter. The truck is from the south, Georgia I believe, and I bought it in South Carolina. Truck runs great, there is not rust on the body at all 179,xxx miles. Bottom of the doors look like new, same with rockers and rear gate. Truck is clean, you won't find another one in this clean around here. It does have a scratches and a small ding or two, but nothing major. looks good all cleaned up. I had new shocks, brakes, rotors, pads front, shoes rear, wheel cylinders, and serviced transmission, rearend, front end, and transfer case all done when I bought it a few years ago. In the last year, I replaced both batteries, and the starter. It is due for inspection, but will be exempt because it only had 250 miles on it last year. Tires are great shape, about 7000 miles or so, also has an 8000# electric Super Winch, and aftermarket winch bumper (has some surface rust) on the front and two KC lights. I believe it was a fire truck of some sort of response vehicle. It does have a small dent on the fender and door because I was broke into at my house and believe someone tried to steal the wheels off of it because my fiancee took it down the driveway and the wheel fell off. And it hit the fender and door.
I have made several improvements to the engine, and parts are easy to get. There is a company in Buffalo, New York that makes mod kits for these, you can get this truck to about 450 horsepower for $1500.00 I have replaced the PMD and bought a heat sync for it, also relocated so it doesn't over heat. Installed a new high flow crossover pipe, and straight pipe, and installed a cold air intake. Truck has good power, 4×4 works great, shifts good too. Has power door locks, cruise, air, am/fm, no power windows. Also has Eagle alloy 589 wheels, but they need a good polish. Asking $3500.00 OBO or would consider trades of boats, horse trailer, or farm tractors, equipment or use your imagination and let me know what you got.